A Look Back At Some Of Our Rural Architecture Projects

Dualchas has been extremely fortunate in helping deliver projects in some of our most stunning rural communities. With this comes great opportunities, but also responsibilities. We aim to create beautiful homes for our clients and be respectful of our landscapes, heritage, and environment.
After more than a year of living through a global pandemic, many people have re-evaluated how they want to live and what is important to them. This has seen a surge in interest in relocating to the countryside. The community spirit, wide-open spaces, and pristine environments that rural areas can offer are highly valued.
Good design and sustainable development are key to maintaining what is special about the countryside. To plan for the future we should look to our heritage – the designs and sustainable building practices of our forebears can teach us so much. And if we value our traditional architecture by repairing old buildings, and being inspired by their design, we can hope to produce modern architecture that future generations will value.
Here are some examples of our work that aspires to match that ethos.

What was once a dilapidated steading and milking parlour is now a spacious and light four-bed family home in rural Aberdeenshire.
The client had a clear ambition. Visually, he wanted to preserve the original milking parlour's quality of space and express the steel truss roof structure. But he always wanted the house to be energy efficient, incorporating the latest green technology.
For this reason, we over-clad the building in insulation and larch externally. This allowed us to maintain the internal width of the central space, bring to life the steel trusses, and use the inner masonry walls as a heat sink. A ground source heat pump supplies the underfloor heating.
A building that once housed livestock now has a new life as a modern family home. A simple strategic approach to barn conversions should be about preserving what is unique about the existing structure while creating a home that is spacious, light and warm.
Granite from a dilapidated byre structure was reused to create a new bedroom wing, and a quirky "guillotine door", used to separate the cattle, was refurbished and reinstated in its original position, weight mechanism included.
The past used to inspire the future, history preserved. With imagination and effort, renovated agricultural buildings can become homes to rival the best modern architecture.

Our client's vision for this inherited croft was clear, a calm and welcoming space that retained the strong connections between the landscape and local heritage of the original property.
Broken into three elements, while retaining a natural flow to the property's layout, the structure consists of a bedroom wing, a living/reception room and a studio space.
Building on what was already present in the landscape, a natural bowl became the property's own lochan and a focal point for the surrounding structures. By damming the out-flowing burns, this uncommon natural feature added a unique element to the project.
The inspiration from the surrounding area continues in the materials used. Larch was repurposed from fence posts into a new rainscreen while metal and stone were refined and abstracted from the property's galvanised gates, walls and fanks and given new life.
As comfort and tranquillity were two objectives for the project, external shutter and heavy insulation keep the structure warm with heating for the water supply being supplied by an air source heat pump.
To find out more about this project, head on over to its page in our portfolio.

This project, located in south Skye, is both a warm and comfortable three-bedroom home and an inviting bed and breakfast near Armadale in Sleat.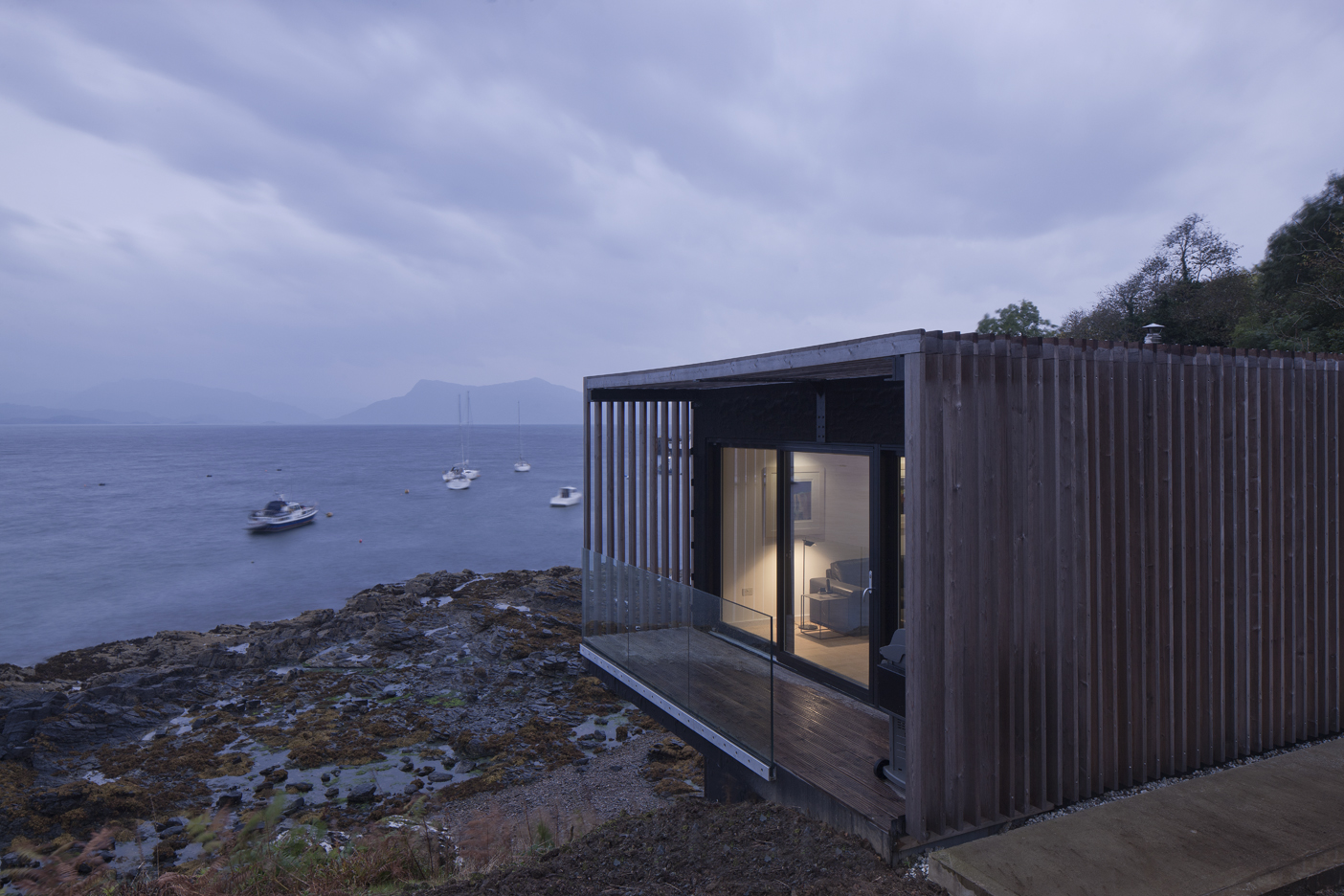 The design for this home was focused on creating a family home and space where our client's guests would feel comfortable and accommodated.
The property's layout was carefully planned to offer the same levels of natural light and views of the surrounding landscape.
The design used was a modern and minimalist style to allow the structure to naturally blend into the island's surrounding land rather than distract from it. We achieved this style by repurposing larch to clad the property's outer fins, providing privacy and weather to better integrate the home with the surrounding landscape.

We helped our clients fully utilise this c-shaped property's potential and create a stronger connection between the several different buildings, gardens, and grounds.
Looking out over the Kyles of Bute, the property consists of a cottage, converted steading house, wood store, barn and walled garden.
We adopted a simple linear layout with large openings to take advantage of the property's views to bring everything together. With simple but impactful changes, such as removing the corner of a building to create a glazed, dramatic kitchen and dining space, we fully utlised the properties potential to make something fresh, new and modern.
To get more information on this project, you can find it in our portfolio.

As previously mentioned, one ethos Dualchas work too is restoring a property's original beauty while bringing it into the modern-day. This was the goal of our project renovating a whitehouse in Elgol.
With only a picture from the 1950s, our client came to us wanting to restore the home's natural beauty, which poorly thought-out alterations had over time had chipped away.
Not only did we restore the home's facade to its former glory, complete with modern touches such as insulation, but we also breathed new life into its interior and constructed a timber extension that gave our clients all the space they needed.
Burnside is another example of how the old can be made new again without taking away from a property's character and charm.
If you are thinking of your own dream home, whether custom-built or renovated, give us a call. We offer a fresh approach that combines modern design, respect for a landscape's traditions and culture, and how you live your day-to-day life to design something truly special and unique to you.